Living with joy at the origin
Species-appropriate husbandry for valuable hay milk from our cows and delicious dairy products in the hotel.
Agriculture at Klausnerhof
Traditional alpine pasture for food of GM-free hay milk
As suggested by the name, the Klausnerhof used to be a pure farm. Martin Klausner keeps his ancestors' tradition alive to this day – with confidence and passion. As in the preceding centuries, his 40 beefs of which 22 are dairy cows spend the Summer on the alp. That thorough treatment supplies the breakfast buffet at our farm hotel in Austria with delicious products like buttermilk, yogurt, and whey, which get produced in-house.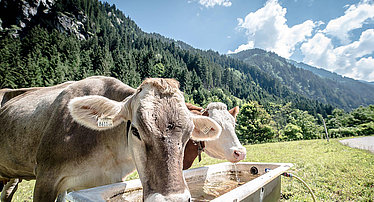 Alpine summer from June to September
From year to year in June, the cattle get driven up to the Bichlalm at 1726 meters above sea level. A little later, the journey continues to the Sommerbergalm, located at 2100 meters. This way, the animals do not just eat the best alpine grass but also stay healthy and sure-footed. By a so-called "milk car" the alpine milk is transported daily to the alpine dairy at Mayrhofen. Over here, raw milk gets fabricated into butter, quark, and herb cheese. Occasionally, in-house beef gets processed for delicious dishes – and even mountain hay adds to the flavor through its unique aromas, as proudly explained by the Chef, Patrick Wohlfarter. The animals spend the winter safe and sound in the valley's joint stable, where they eat exclusively high-quality mountain hay.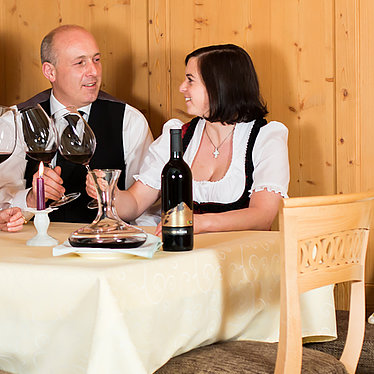 The symbiosis of agriculture and cuisine preserves our region's authenticity.
Collaboration since 700 years
Ever since living in the Zillertal Alps has taught people that cohesion is the only way. Therefore, farmers all-around Hintertux have been splitting up tasks that incur in the livestock sector for seven centuries. The joint stable in Hintertux and the alpine dairy Mayrhofen guarantee savory and healthy products based on hay milk. Hint: Go on a hiking tour to the Bichlalm and enjoy the lovely view of the mountains and traditional alpine specialties. Besides, you can see the alpine dairy Mayrhofen yourself and explore where the milk comes from and how it gets refined to various delights by SchauBauernhof (farm to be explored) and SchauSennerei (explore alpine dairy).