Indulgence is pure passion
Good food plays with the senses, strengthens the body and creates a community that lights up the heart.
The luxury board at Klausnerhof
Culinary highlights from breakfast buffet to the 7-course gala dinner
Do you suppose the mountain peaks are the highest level attainable in Hintertux? Then you have not experienced the quality standard of Hotel Klausnerhof regarding its kitchen and wine cellar. Regional and seasonal delights await you that get created every day headed by Chef Patrick Wohlfarter. Our personal touch finds itself even on the plate: Butter and dairy products come from the collective alpine dairy in Tuxertal or directly from the in-house agriculture. It gets run by Martin Klausner with dedication and passion.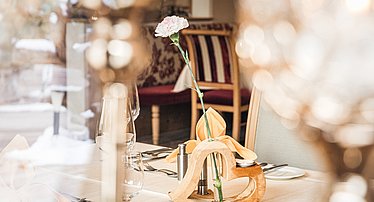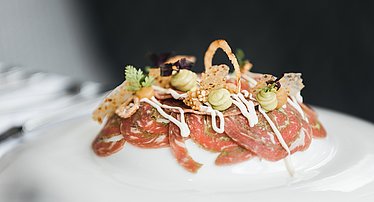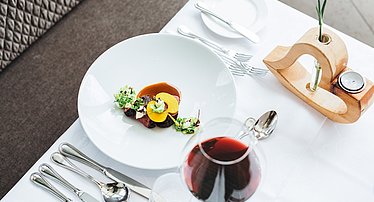 The luxury board in brief
Start from 7:30 p.m. to 10:30 p.m. delightfully on every single holiday:
Daily rich breakfast buffet with regional, fresh products as well as dairy products from the agriculture at Klausnerhof
Fresh scrambled eggs at the show cooking station
Several fruit juices from the dispenser
A diverse selection of bread from the bakery Stock in Lanersbach
Lunch for kids as part of the childcare during July and August
Recharge your energy level after hiking or skiing from 3.00 p.m. to 5.00 p.m.:
Varied afternoon meal with soup, main courses, salads
Homemade pies and cakes (beverages not included)
Delight at night in the restaurant from 7.30 p.m. to 8.00 p.m.:
From Monday to Saturday: Varied 5-course menu with a choice of 4 main courses and salad buffet
Sundays: Welcome evening at the bar with a subsequent 7-course gala dinner with wine accompaniment (extra charge)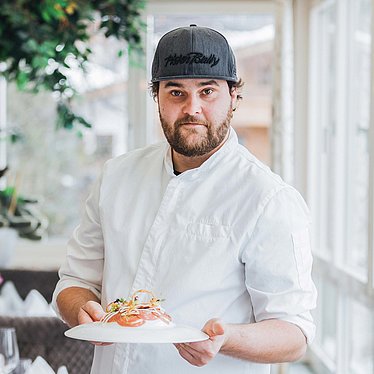 We prioritize the pure taste of high-quality food. That is the foundation for genuine indulgence.
Plenty of culinary specials for kids
When it comes to food, kids tend to have a mind of their own. That is why we, at Klausnerhof, offer a kids' menu or kids' buffet. Fresh and healthy ingredients get highly prioritized for our small and our "big" guests. We understand children's taste buds react differently such that dishes that stand out due to bitterness or intense flavor get often rejected. Luckily, there are many alternatives to make our little foodies full and happy. Just let us know if your little one absolutely (dis)likes specific food: We are glad to find an enjoyable way.