Warmth creates a sense of well-being
Warm and relaxed from head to toe - very gentile with steam or hot with glacier views.
The Sauna World at Klausnerhof
Panoramic sauna with glacier view and 3 other rooms to sweat
Anyone who has already tried it knows: Purposeful sweating is good. All the body's muscles relax in the soothing warmth, the blood vessels are dilated and give the skin a rosy touch. The immune system gets boosted, and tense nerves finally calm down. At our spa hotel in Hintertux in the Zillertal you can choose between four heated rooms on two floors. Guests aged 16 years are free to have a sauna from 12.00 am to 8.00 pm each day of the week on a whim.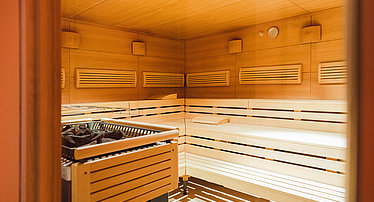 Finnish sauna with an enchanting mountain view
The panoramic sauna on the 6th floor is without the highlight of Klausnerhof's sauna world. While enjoying hot 194 °F, you marvel at the view over the Hintertux Glacier's eternal ice. What a contrast! Imagine yourself: Outside, thick snowflakes are falling, the temperature drops below 0 degrees, and you just add another sauna infusion – and start one more round of sweating at the very finest. After every sauna session, you refresh your body with ice-cold water and then take a break in the relaxation room – next to the panoramic sauna – on one of the water beds. Feel how your body, mind, and soul relax and freshen up with every sauna session!
Sauna is recovery: We focus deliberately on the healing power of intensive warmth treatments.
Gentle sweating with(out) steam
On the 5th floor, we have three other warming rooms ready for you. In the infrared cabin, the deep muscle layers are loosened and go off the tension at 104 °F, and joint pain is considerably alleviated. In the steam sauna of 113 °F and highest humidity, the focus lies on the respiratory tract and the skin. The nose and bronchial tubes are pleasantly humidified, and the steam cleanses the skin down to the pores. The bio sauna of 140 °F is the place to be for everyone who likes to have a sauna but does not appreciate higher temperatures. Hereby, the body is gently but just as effectively made sweat as in the classic sauna. Between the heat applications, you rest on one of the loungers, next to the saunas.