Liquid treasures in the glass
The most beautiful side thing for connoisseurs is a well-stocked wine cellar and pleasant company.
Wine enjoyment at Klausnerhof
Wine recommendations by the certified sommelier and in-house "Glacier Wines"
The expelled wine connoisseur and host Martin Klausner enjoys friendly ties to many Austrian top winemakers. His daughter Magdalena, a certified sommelier, professionally advises Klausnerhof's guests on the wine selection for the dinner menu. The father-daughter duo presents its mainly Austrian wine favorites at tastings in the wine cabin and wine tours through the hotel.
Klausnerhof's "Glacier Wines"
In talks with befriended winegrowers from Göttlesbrunn in the wine region Carnuntum in the south-east of Vienna, the idea to create Hotel Klausnerhof's cuvée was born. That is the story of how the "Gletscherkönig" (Glacier King) emerged in 2012. This fruity, powerful wine unifies Merlot, Frankovka, Zweigelt, and Cabernet Sauvignon. It got very well received such that the "Gletscherkönigin" (Glacier Queen) – the perfect complement as varietal wine – was introduced one year later at the baptism of new wines. But that is not all: In 2017, the "Gletscherprinzessin" (Glacier Princess) got showcased, a white wine cuvée that amazes with flavors of Chardonnay and Pinot Blanc. In 2019, royalty got completed by an elegant and tasteful rosé wine, the "Baroness".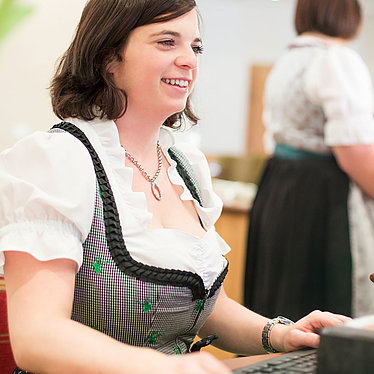 Due to the variety of regions and vintages, Austrian wines offer a tremendous level of diversity.
Wine list of great spectrum
According to Martin and Magdalena Klausner, planning is the key: They follow the aspiration of having a matching wine in the wine cellar ready for every dish and every guest's preference. Thus, the wine list at our farm hotel in Austria is highly varied, and the wine cellar contains treasures of famous vineyards from Austria and the world. The team is working nonstop to improve its wine list – recent discoveries, particularly superb locations, and excellent harvests always find their way into the guests' glasses. Dare a new experience and enjoy Austrian wines in their fullness and variety of tastes.