Dream location and breath-taking scenery
Quiet holiday at 1500 meters with views of the Hintertux Glacier
Dream location and breath-taking scenery
Quiet holiday at 1500 meters with views of the Hintertux Glacier
Far back in the Tuxertal, Tyrol, Austria, surrounded by meadows and fresh mountain air, Hotel Klausnerhof lies within an absolute dream of a setting. The Tuxertal is an extension of the Zillertal that splits up into four valleys at Mayrhofen. From there, every step on the constant uphill path takes you closer to the breath-taking scenery. Welcome to the valley head in Hintertux – the beginning of endless hiking and biking trails as well as the entry to the Ski- und Gletscherwelt Zillertal 3000 ("Ski and Glacier World Zillertal 3000").
Magical views of the Glacier
"The Hintertux Glacier accompanies us all year round", says host Frieda Klausner, "One day it turns out to be sunny and bright, the other day it hides in a veil of clouds. It is almost like it has a personality of its own." The views from the Klausnerhof of the Glacier are indeed breath-taking every single moment. Especially in the Panorama Spa on the 5th and 6th floor the "eternal ice" is omnipresent. Enjoy the unique mountain scenery, from the swimming pool indoor and outdoor, the whirlpool and the sun decks to the Panorama Sauna any time of the year. When hiking and biking in the Tuxertal, the striking Glacier comes into focus again and again. It is an anchor point, photo scene, place of longing, and a peaceful haven.
In the Hintertux valley head, we enjoy the peace and fresh air. Here, the clocks tick a little differently.
Mountain experiences and glacial attractions
The valley station of the glacier cable car is only 5 minutes away from Hotel Klausnerhof. In three sections, the Gletscherbus ("Glacier Bus") covers a total of 1750 altitudes within 17 minutes. Even the ascent to the mountain station at 3250 meters is an experience in itself! The Gletscherbus 1 brings guests up to 2100 meters to the Sommerbergalm where family-friendly and comfortable hiking trails start. The Gletscherbus 2 takes guests up to 2660 meters to the Tuxer Fernerhaus which is a popular mountain restaurant in winter and a starting point to explore the Spannaglhöhe all year round. Lastly, the third Gletscherbus shuttles holidaymakers in a spectacular and panoramic way up to the barrier-free viewing platform, to the NaturEisPalast ("Natural Ice Palace") and the Gletscherflohsafari.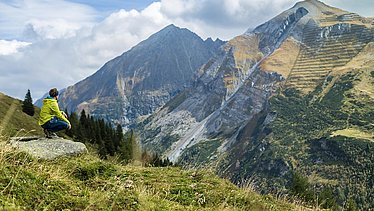 WOW! 7 advantages of the Klausnerhof's location
Rest and relaxation in the valley head at 1500 m
Fresh mountain air and pleasant temperatures
Magnificent views of the Hintertux Glacier
Ski and hiking bus to the glacier cable car (5 min)
Ski slope from the glacier to the Hotel in winter
Hike IN – Hike OUT: Hiking from the Hotel's front door
BIKE IN – BIKE OUT: Biking from the Hotel's front door
We get up with the glacier and go to sleep with the glacier, it accompanies us every single day.