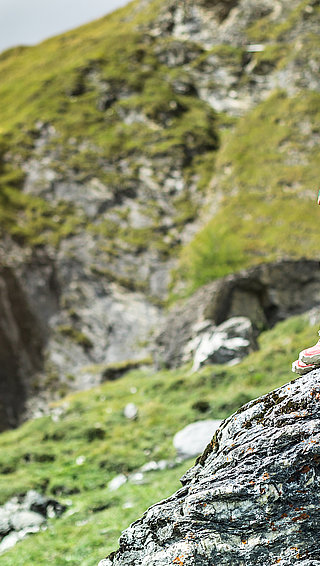 Hikeable mountain experiences
Green alpine meadows, the blue sky, and a cloud ship that hoists the sails and carries away everyday life.
Your hiking holiday in the Tuxertal, Tyrol, Austria
4* Hotel Klausernhof with hiking service, guided tours, and more
Hiking is exploring: Discover step by step a magical world of blossoming alpine meadows, dark coniferous forests, crystal clear mountain lakes, and rocky summits. 350 kilometers of well-marked hiking trails in all levels of difficulty await families with children, walkers, pleasure hikers, and sporty mountain enthusiasts. If that's not enough, the whole nine yards of 1400 kilometers of hiking paths offer indefinite destinations throughout the entire Zillertal.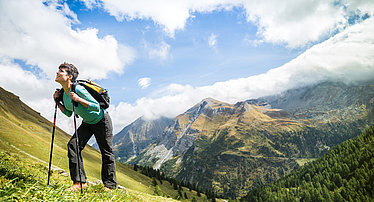 Hiking experiences at Klausnerhof
Hand over the navigation by joining a guided tour at Klausnerhof, led by your guide Franz Hochmuth. Depending on the season, three to five guided tours are offered that lead you to the most beautiful spots of the Tuxertal. Lend a backpack, walking sticks and walking maps at the hotel for free! Explore the valley and mountains well-equipped with the best hiking advice for every fitness level, and each needs easy with(out) accompaniment. After another warm welcome when entering the Klausnerhof, the delicious hearty meal is already prepared.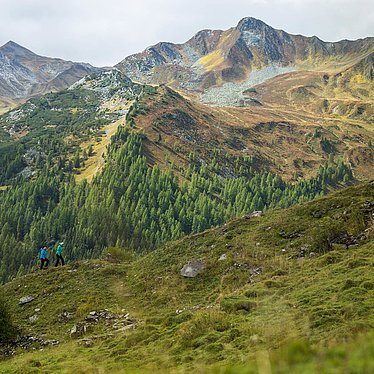 For me, the most beautiful thing is to present the mountains, our home, to our guests.
Various hiking trails in Tux, Tyrol, Austria
350 km hiking trails in the Tuxertal, 1400 km in the entire Zillertal
Free-of-charge hiking bus between Hintertux and Mayrhofen
Hiking taxi to the starting points of several hikes (from June to the end of September from Tux-Center Tux-Lanersbach, departure 9:15 a.m. to the snack bar Stoankasern, Hobalm, Vallruckalm, Lämmerbichlalm, chargeable)
Summer cable car: Eggalmbahnen (mid-June to end of October), Finkenberger Almbahnen (in early June to mid-October), Hintertux Glacier (all-year)
Plenty of managed alps and mountain inns for a stop
6 theme trails for young & old (kids from 5 to 10 years) starting from the Gletscherflohsafari to the Waterworld-Circular Route in Hintertux
High-altitude hikes and summit tours with cable car
Guided hikes in the Zillertal Alps Nature Park
68 km cleared and signposted winter hiking trails in the valley and to mountain pastures, guided snowshoe hikes