Just let yourself drift along
Feel how the water buoyancy makes the body light and the mind levitating.
The Water World at Klausnerhof
Panoramic pools and sun decks with a glacier view on two floors
The Klausnerhof Water World is part of the Panorama Spa on the 5th and 6th floor in the 4* spa hotel in Hintertux, Tyrol. From the pools and sun decks, you enjoy the uniquely beautiful, undisguised view over the glossy white Hintertux Glacier. The large picture windows completely break down the barrier between indoor and outdoor: This way, the feeling of hovering amidst the majestic mountain scenery arises even indoors.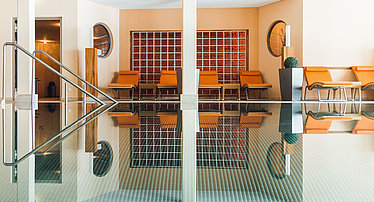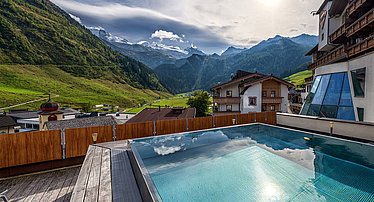 Indoor pool with heated outdoor pool
The first thing that catches the eye when entering the indoor pool is the view through the picture windows over the surrounding mountain peaks. Swim laps in the indoor pool, filled with mountain water, and pass through the lock into the all-year heated outdoor pool if you feel like it. Savor the moment of pleasant warmth and fresh mountain air. In addition, the whirl effects in the outdoor pool lead to muscle relaxation and better blood circulation of the skin. In summer, you might then rest on the sun decks from which you likewise look at the Hintertux Glacier. In Winter, you might choose a water bed in the relaxation area to relax, read a book, and maybe nap for a few moments after swimming.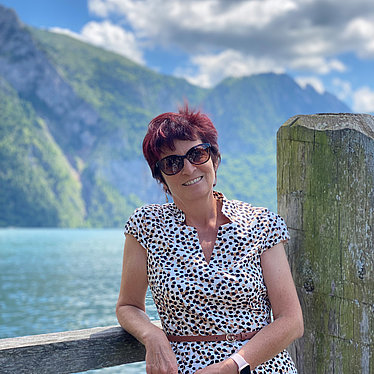 The power of the element water blends in the Panorama Spa with the ancient, powerful energy of the mountains.
Hot tub and green sun deck
A special attraction of the Klausnerhof Water World is the open-air hot tub. On the green terrace (in summer), splashy water fun and spicy air unite in a unique restful experience. In the warm water, rising air bubbles ensure a pleasantly light body feeling, and massage jets loosen all body's muscles. If you are a fan of a particular spark, you might go for a stay in the hot tub in winter, when snowflakes fall from the sky, and you feel like you fuse with the elements of cold and warmth. Hint: A wellness bag with a cozy bathrobe and slippers already resides in your room upon your arrival!
The Klausnerhof Water World is open for all guests every day: the Indoor pool from 7.00 am to 8.00 pm, the outdoor pool from 3.00 pm to 7.00 pm, a hot tub from 3.00 pm to 7.00 pm.